It's the amazing secret any serious bodybuilder would kill to possess. And you can learn the entire routine for FREE if you choose!


Here is the inside story on the ONLY authentic "Big Beyond Belief" training-for-maximum-muscles discovery, by the one-and-only Leo Costa… the genius trainer that pro athletes, Hollywood stars, and Navy SEALS call their "secret weapon" for quickly getting the big arms, massive shoulders, thick lats and spectacular overall muscularity that causes other men to fall silent when you enter the room!
"I've Got To Get This Off My Chest… Before I Explode!
I Can Guarantee You Will Burst Through To Your Full Genetic Potential For Massive Size And Strength... In Just A Few Intense Months!
Whatever training approach you're using now can absolutely be improved by nearly 70%. I've already proven (from working with the toughest "hard gainers" I could find) that I've discovered a better, more effective and efficient training system that can double your current rate of muscle growth and strength gains... while spending HALF the time at the gym! Your definition will finally be so well chiseled, you'll look like a Greek statue. Best part: You can test it yourself, without risk, if you act fast…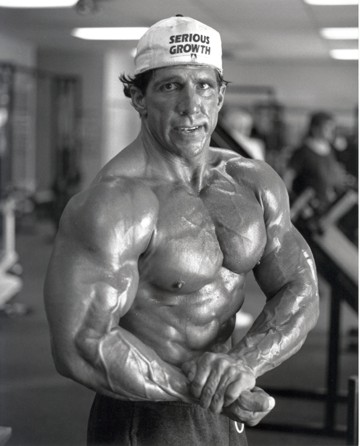 At 48 years old, Leo Costa shows why
bodybuilders world-wide rely on him for learning
how to pack on serious muscle, fast.
Dear Friend…
Are you a bodybuilder… or do you plan to be one? If so, then this will be the most important message you ever read.
Here is why: If you will trust me (even a little bit) for just 4 short weeks, I will show you the secrets of…
How To Pack On Unbelievably
Huge, Dense, Rock-Hard Muscle
As Fast As Humanly Possible…
And Without Limit!
Stay with me for just a minute here. I know you're skeptical — who wouldn't be, with outrageous claims like this coming at you from all the magazines, late night TV shows, and health stores.
This is different. What I'm telling you is the God's honest truth, and you need to hear about it because:
(1) I guarantee you the way you're training now is cheating you out of 90% of the growth you should be getting!
(2) Over 52,000 bodybuilders world­wide have already "come on board" with me, with abso­lutely astonishing results (which has caused people in their gyms to cry "ster­oids" even though they're totally natural)!
My name is Leo Costa. You may have heard of me before, or read about me in the bodybuilding magazines. I'm considered a rebel, because I refuse to use or endorse drugs and steroids. The discovery I've made allows almost anyone to get as big and powerful as you want… without pills or needles.

That's how I got famous… and why over 52,000 bodybuilders follow my advice. I knew I was famous when money-grubbing wannabe's started ripping off my "Big Beyond Belief" ideas. They have NEVER gotten it right, and are clueless about the real reasons this discovery works so amazingly well.

Frankly, these "phony experts" piss me off, because they don't care about you and other bodybuilders.
Real Results From Real People… and Raves From The Pro's, Too:
"In the last 9 months, added 100 lbs. to my squat, 70 to my bench… gets better with each trip to the gym!"
Eric Litster, Brigham City, UT
Bill Pearl Former Mr. America and Mr. USA, and four-time Mr. Universe. "This is an excellent training program and its concept is sound. For the person or athlete who is serious about his or her training, this course will pay big dividends.
"In first 3 months, gained 1 inch in arms, 2 inches in chest, 10 lbs. of muscle."
Steven Penoyer, Evart, MI
Vince Gironda "Iron Guru" Original trainer of Arnold, Lou "The Hulk" Ferrigno, Franco Columbo & countless other stars "Over the years, I've seen a number of companies come and go, making wild claims about their programs. When tried, they produce more frustration than muscle. If you follow the Big Beyond Belief program to a 'T', you will gain a tremendous amount of growth."
"In just 2 months my bench went from 260 to 325, which is just 15 lbs. from when I was 19 and using anabolics!"
David Harper, Stone Mountain, GA
Edmund Enos, PhD Associate Professor of Exercise Science, Concordia University, one of the world's leading authorities on bodybuilding and strength training. "All athletes and bodybuilders interested in becoming more knowledgeable of advanced training methods... and in significantly increasing their strength and their muscular bodyweight should meticulously review Leo Costa's latest training manual."
"After seven years in the NFL, it was crucial I find a strength and conditioning program that would give me an edge on the younger players. After researching many of the best program, I can say with confidence that the Big Beyond Belief program is the only one that combines scientific data with old fashioned common sense. This program gave me results I thought unachievable, along with my most productive years in the NFL."
Michael Young, Denver Broncos
"Thanks. At first, people talked a lot of crap about my new training. But in the last 8 months I've left everyone so far behind that they just ask questions and watch."
Dana Mattos, Honaunau, HI
Michael Yessis, PhD Editor Soviet Sport Review. Professor of Kinesiology CSU, Fullerton, Contributing writer for Muscle and Fitness Magazine. "...incorporates practical knowledge with scientific information. Body builders will find it extremely useful in achieving maximum gains from their training programs. I recommend it to the serious body builder."
"I have made greater gains in the last 2 months using Serious Growth than I made in all my previous years of training. Leo is straight forward, (no B.S.) and his style of writing motivates like no other."
Greg Privett, Portales, NM
"I was ready to quit, decided to give this system a try. On 3rd week, bench jumped 40 lbs. I look just as good as the guys using steroids. Thanks."
Jared Jensen, Brigham, UT
Boyer Coe Seven-time Mr. World, Four-time Mr. Universe and 1969 Mr. America. "It is a well thought out plan for meaningful results, I urge you to try it!
"To sum up in a word -- awesome! Not only for the gains in size and strength that I have achieved, but for the bodybuilding knowledge that Leo and staff teach and with this knowledge you'll not only look good, you'll feel great."
Calvin Robinson, Orlando, FL
"Felt like I was growing every day."
John Herrera, Cerritos, CA
"Leo, this is absolutely the best program I have ever seen, and I've seen a few (Cybergenics, Weider, etc..). I am amazed to see the changes in my body. Thank you for having the courage to preserver against the naysayers and provide real information that bodybuilders can actually use."
Brian Whited, Constance, VA
"Gained 10 pounds of muscle since starting."
Nick Jungman, Castroville, TX
"Tried other products, but haven't had anywhere near the success as with this! Gained 25 lbs. of muscle in last 10 months, added 3 inches to my thighs."
Leroy Morton, Jr., Liston, IN
"The Movie industry is full of stress and long hours. The Big Beyond Belief program helps give me the stamina and energy I need to make an edge and compete. I'm not into body sculpture, I prefer the toned, aesthetic look. If I feel good about the way I look, my overall performance is better!"
Steve Ruther, Los Angeles, CA
"Started at 195, 25% body fat — now 195, 12% body fat. Gained 2 inches in all measurements except waist, down 2 inches. Strength has sky rocketed!"
Matt Slaymaker, Marengo, IA
"Went a year with no gains, then started this program (without supplements) and went from 207 to 220 with no increase in body fat. Bench went from 275 to 370 in just 18 weeks!"
Toby Dembowski, Anaheim, CA
"This book contains everything that an experienced bodybuilder needs in detail. All three aspects of bodybuilding are addressed completely -- training, diet, recovery -- they are all here. As everyone says don't change the system, just follow it. I noticed this first hand when I switched from bench press to weighted push ups. Getting your body to move through space when you train is so much more effective than lying/sitting on a bench. Squats over leg press, parallel bar dips over machine bar dips. These are all explained in the book. I started at 80 kg lean muscle and after 3 years am 105 kg."
Francis Chapman, Australia
"Better gains in last 8 weeks (on this program) than in previous 6 months without it!"
Jeff Thorsen, Troy, MI
"Leo I've got to let you know that after only four weeks of your manual 'Big Beyond Belief' I've gained growth, what it took me six months to acquire on my old method. Leo I really like what I see in the mirror and the bulk stays with me in the morning. Thanks Leo! I just can't wait to see myself after six months."
Jesse Loza, Arlington, TX
"Added 40 lbs. in one year. Best part is the other guys tell me I'm not training correctly… don't understand why I get stronger and they don't!"
Dr. Gerard Sarni, Elmhurst, PA
"Thanks man, I have been trying to get back to 385 pounds on the bench press, just last week I got 380. I am the envy of the club where I workout at. 'Big Beyond Belief' is everything you said and more. I am on my way to being the best possible body builder that I have ever been. I owe it all to 'Big Beyond Belief'. I am ordering because you know what you are talking about, there is no system out there like yours, you are the best."
Timothy Daniels, Los Angeles, CA
"Friends think I'm using steroids!"
Lance Mosley, Palm Beach Gardens, FL
"Other people in the gym think we are crazy because of the way we train, but we enjoy being unreasonable. I can honestly say that Big Beyond Belief is one of my top personal possessions. Thanks Leo for giving natural bodybuilders a pathway for getting huge."
Eli Koppel
"18 lbs of muscle in 8 weeks!"
Sal Zekiri came from Yugoslavia to train with Leo, and added 18 lbs. of muscle in just 8 short weeks, without adding a single ounce of fat… plus he added 100 lbs. to his bench press and 200 lbs. to his squat!
"I have been on the Big Beyond Belief program for six and a half months. I have never had these kind of results before. My friends and people at the gym think I am on steroids!!! I love the program and can't wait for the next one."

Chris Martellio
"I am a 36 year old ex-football player, who has been a bodybuilder for 10 years. I wanted to drop you a few lines to let you know how your BBB program has worked for me. My training partners and I have used the system for 2 years now. We are currently using level three which is total torture. But hey! No one said this "shit" would be easy. We just want to get Big. Everyone in the gym looks at us in amazement. The normal people thinks we are animals. The pussies in the gym think we are on the gear. They'll use any excuse to avoid hard work. These chumps look at us in wonderment as to what we are using. It's crazy!"
Bert Frederick Hill MD
"I wanted to let you know that I'm sure I have made one of the best decisions in my life from the moment that I decided to give the Big Beyond Belief system a try. I think it is one of the best methods based on scientific research for packing on muscle. Since I started this program I've been making good progress in my physique, even when I have not been paying attention to my diet. The only factor that I have changed is the training an I've seen optimum results. Man, this system works!! My arms got inch bigger. My thighs grew up to 2 in. And my overall physique is getting bigger and bigger. But, best of all, I'm accomplishing it without anabolic steroids or any other ergogenic drug. I'm not even using supplements. Just Big Beyond Belief plain and simple."
Gerard Aguirre
"I'm writing only to tell you how grateful I am for your help in reaching my bodybuilding goals. Perhaps I can express my thanks to you most adequately in explaining what your techniques have helped me accomplish. I have gained 75 pounds. My body fat has not gone above 12 percent, and most of the time is just slightly above 10 percent. I have added 165 pounds to my bench press and 200 pounds to my squats. I have added 4 inches to my thighs, all this while adding only 2 inches to my waist. My clothes are busting at the seams, I feel powerful and I am in the best shape of my life."
Conor Kelly, St. Johns, NFLD, Canada
"You've got to be freakin kidding me! I'm growing like a newborn baby. Big Beyond Belief is un-freaking-believable! My strength is taking off to another solar system. Everyday I look and feel better, I owe it all to you guys. Thanks a million. If you ever need a favor, I'm in debt to you for life. My bodybuilding struggles are over, now I just sit back and smile after every workout knowing what's about to happen. Thanks for some incredibly useful info and no bs!"
Jason Ferruggia, Watchung, NJ
"Big Beyond Belief, is the best work out I have ever had. I have made noticeable gains in only 6 weeks. Such as a 1 inch gain in my chest and legs."
Jody Nichols, York, SC
"The Big Beyond Belief training program was the best thing that I could have done to get big and strong. I gained 30LBS. of meat in 3 Months and in just 2 months my squat went from 225lbs to 30lbs. My bench press from 175lbs to 245lbs. The whole football team said, 'Steroids'?, I said 'NEVER'!"
Gonzalo Palacios, Glendale, CA
"The best thing I like about Big Beyond Belief is that there's not guesswork involved. Even the most minute aspects of lifting are explained in detail. Sets, # of reps, rest periods, recovery, diet -- it's all completely mapped out for you."
Jim Palmer, Watuaga, TX
"Your Big Beyond Belief Manual makes it clear. If you want to grow you train hard, you eat big and rest up. Your manual told me how to do each properly and now in the first 3 months my strength gains have sky rocketed. I started doing 60 pounds dumbbell incline presses 10 times and now am using 90 pound dumbbells for ten reps. 60 pounds in 3 months! The most amazing thing is my calves are growing!"
Michael Tolle, Flagstaff, AZ
"Everything you claimed about Big Beyond Belief is true! I know because I tried it for just two months and made more gains than I have in the past two years. I gained one and a half inches on my arms and three inches on my chest. I lost two inches off my waist but gained 8 pounds of muscle. I recommend Big Beyond Belief to anybody who wants to make dramatic gains in a short period of time."
Leon Ortiz, Worthridge, CA
"I could literally feel my body growing. I started out at a measly 140 pounds with 14 1/2" arms. Now I'm 175 pounds with 17 1/2" arms and growing. My bench press went from 160 pounds max to 325 pounds and I achieved this on the modified version of the program. Thanks Leo!"
Peter Giardini, New Rochelle, NY
"I'd like to say how great the Big Beyond Belief manual has worked for me. I've only been on it for nine weeks and my bench-pressing has gone up forty pounds, my squats have gone up from 125 pounds to 205 pounds, in fact, I've went up a lot of everything. Your product is the best I've ever had. You may quote me on that."
Michael Elkins, Berwyn, IL
"I was skeptical at first, I decided to go for it. The end result was phenomenal, Big Beyond Belief put thirty pounds of muscle on my frame. My strength jumped in all exercises. About ninety pounds was put on my bench, seventy on the military and back. If this isn't incentive enough to do this, you don't want to get big. If you were to do one thing in your life, do "Big Beyond Belief ". My body went through changes that my peers couldn't believe. They accused me of doing drugs, but I plainly said never. You feel yourself growing and getting stronger. Your body is brought to a new level accomplishment. If you want to get big this is the only routine."
Tony Chillino, West Nyack, NY
But I DO Care… A LOT!
So I'm here to set the record straight… and to get you what you need to start packing on the size and power you desire, fast.
I should probably start off by telling you my credentials. I'm a nationally-known educator, a level one weight lifting coach with the United States Weightlifting Federation, I won the NABBA Mr. USA Heavyweight Division and recently traveled to Europe to compete with 90 top ranking bodybuilders from over 10 coun­tries for the prestigious title of Mr. World.
I'm also a highly sought after personal trainer who coaches football, baseball, and track pro­fessionals in addition to many famous athletes and celebrities. Probably my most famous (though not best built) client is Hollywood film star Kevin Costner, star of WaterWorld, JFK, Dances With Wolves, and others.
Plus, Navy SEALS (and later, other active duty special forces soldiers) begged me to give them the quick-training skills they couldn't find in the "official" Navy training. They wanted to get really big, really fast… and have the kind of overwhelming kick-ass strength their tough job required.
Doing it all in the shortest time possible was critical -- because spec op soldiers simply don't have much time to train.
That's why these combat-ready soldiers came to me, privately.
Men, women, famous people and sports teams throughout California have come to me for years… when they need to rapid­ly improve their strength, performance, endurance, or appearance.
I especially like proving to "hard gainers" -- who insist they just "can't get big" -- how EASY it is to pack on serious muscle and power… in half the time they used to train.
I always deliver results… because I discovered the secrets of piling on amazing pounds of muscle, fast.
Faster, I might add, than any method these pro athletes and Hollywood stars have used previously.
Here's the story behind this incredible discovery… which starts with…
Five Days That Changed
My Life Forever!
A few years ago, I was coasting through life, quite content making a nice six-figure income, having clients waiting in line to see me, and building championship weight lifters, bodybuilders, and sports stars.
Then I got invited to attend a top level, strictly "hush-hush" symposium in Bulgaria. The Bulgarian Politiburo consented (for the first time ever) to reveal to a panel of hand-picked U.S. observers the details of an incredible new training system that had been developed over the last ten years.
They put their best scientists to work determining how your body builds strength, power, and large (really large) muscles. Literally hundreds of experi­ments were done over several years to determine what worked best and what didn't.
I Couldn't Believe
What They Were Doing!
When I learned the Bulgarian secrets, my jaw dropped.
Simply put, the Bulgarian trainers have thrown out practically everything we (and even the Russians) believe in—and they've developed and perfected a much higher-level training approach that produced results I had a hard time believing were possible.
But they ar­­e possible!
In fact, virtually any bodybuilder who switches over to this innovative training system can expect dramatic improvements in their own results… even after just a few weeks or months.
By dramatic, I mean bodybuilders can probably double the rate of their muscle growth in as little as six to eight weeks!
And can add 1-to-3 inches to their arms… an amazing amount of pure muscle to their legs and calves… even if they think they've already "maxed" out to their total capabilities.
I Tested It
And It Works!
I train really hard. Most athletes couldn't hold a candle to me. And at my top competitive weight of 250 pounds and 5'-10"­, I thought I was pretty darned developed.
But when I returned from my trip to Bulgaria… I immediately put their methods to the test on my own body.
And I'm happy (and also a little embarrassed) to say that their training system runs rings around anything available in the US.­­­­­­­
After just four months on their program, I pared 10 pounds of fat and replaced it with 12 pounds of rock-hard muscle. My neck size powered up to 20 inches and my arms hit 20-1/8 inches. (And that's a cold measurement.)
And I'm just one example of how amazingly effective the Bulgarian system is…
For Serious Bodybuilders!
This has everything to do with you!
Why? Because, simply, with the secrets I'm about to reveal to you, you can take your current training routine and "twist" it so that you are…
Easily Getting 3 Times
The Progress, While Spending
Half The Time In Your Gym!
And I don't care if you've been lifting for years, or are just starting out!
I am going to show you the secrets of packing on more solid muscle and size in the next 8 months than most bodybuilders achieve in 6 years of hard work!
You'll get bigger, without frustration, with less time spent in the gym.
Sound impossible? It's not.
Actually, it's quite easy to accomplish. And I want to show you how to do it.
You won't have to struggle for years finding what works, and what doesn't, like we did.
What I have here for you is an honest-to-God…
Shortcut To The Massive, Unlimited Growth
You've Always Wanted!
Look, the fact is, about 99% of all bodybuilders (this includes you) spend their entire lives struggling in the gym. Most guys never discover a routine that will give them the constant, sustained growth they desire.
You see, there are actually 8 scientifically-proven "growth factors" you need to manipulate in any program to get maximum results. (And the vast majority of bodybuilders never even suspect this is true — your entire gym is full of people who don't have a clue how to really pack on muscle without interruption!)
Most routines (like the one you're using now) only pay attention to two of these "growth factors", and ignores the other six.
This New "Big Beyond Belief" Training Is
The Key To Explosive Growth… Exactly Where You
Want It Most!
If you want the kind of enormous strength that causes heads to turn… with…
… Rock hard, tightly defined muscles…
… A massive shirt-ripping chest…
… A strong, slender waist…
… Shockingly powerful arms and legs…
… And the capacity to outperform all your peers by a tremendous margin…
I can make it happen faster and easier than you ever imagined possible.
But not necessarily without hard work.
The approach I will reveal to you requires no more time than you're currently spending… but it does require you to use that time far differently.
Three or four months on the all new "Big Beyond Belief" training program and you'll be pulling 20%, 30%, even up to 70% more weight with no more effort than today.
Stated more powerfully—if you're bench pressing 250 pounds today— we can show you how to get that up to 400 pounds or better using these cutting-edge training shortcuts.
Whatever form of weight, strength or development training you pursue—why should you be content with only 55 percent of the results your body is entitled to? Really.
I can go on and on, but I think you get the idea.
Faster results… bigger and better results… in less time.
And the best part is…
Everyone Will Wonder
How You Did It!
I can honestly promise you increases in your muscle size, strength and appearance —dramatic and impressive gains—within the first 90 days of applying the "Big Beyond Belief" system.
In fact… I will promise you this: If you'll only invest the same amount of time you currently spend each week training the inefficient and ineffective old way—and spend those same total few hours a week following the principles of the "Big Beyond Belief" training system—there's no stopping your progress. (Need proof? Check out the testimonials, of real guys just like you.)
My business is bursting at the seams— literally. I can't possibly take on even one more training client.
The only way I can train more bodybuilders, power liners, and athletes… is by putting all my advanced training techniques down on paper in simple step-by-step detail, which is exactly what I've just completed doing.
What I Have For You
Is Completely New
To The Sport Of Bodybuilding!
With the Bulgarian research, I have "mapped out" a strategic way to INSTANTLY accelerate your growth… and it's so simple and easy (yet calculated to be 100% "on target" all the time) that you won't want to believe it.
That's why I ask you give me 4 weeks… because by then you'll easily see the most intense physical changes you've ever felt in your life!
You'll Grow So Fast, You'll Begin
To Scare Your Workout Partners!
Still, it's all automatic. You don't have to study anything, or remember any complicated training routines… in fact, nearly all of the exercises you do will be the ones you're already using!
The difference is, you'll now be manipulating all of the 8 training factors (and not just 2 of them like you are now)… which will not only force your body to grow at an almost frightening pace… but will also keep you in your personal "Maximum Growth Zone" every time you work out.
Can you imagine what a month… or six months… or a whole year… of this kind of sustained, systematic growth will do for you?
This Is The First And Only Authentic Manual
On "Big Beyond Belief" Training!
I'm sorry I've been "behind the scene" here for a little while… all my work with the Special Forces and self-defense-related strength training left me little time to make sure these "Big Beyond Belief" secrets were available to guys like you.
And while I was busy elsewhere… a LOT of phony experts hit the Web with all sorts of rip-offs. It's a shame, and I hope you haven't wasted any money on that garbage.
I'm a real bodybuilder. I put my hard-earned reputation behind what I teach.
And I have MOUNTAINS of proof -- including testimonials from real people, and other experts -- to back up every promise I make.
This is something created BY a real bodybuilder… FOR real bodybuilders.
It's honestly the answer to your wildest goals for size and power.
It's also the fastest, most effective—and though my techniques won't excite pantywaist beginners—for the serious, dedicated, relentless man, it'll prove easy (though demanding.)
I'm Talking About Attaining
The Sort Of Monster Size
You Could Only Dream About Before!
And the best part is, you don't even have to know or understand all the technical scientific reasons behind all this growth!
The manual I've created for you explains everything, in all the detail you could ever want… but you can also go right to the couple of pages that map out what you need to actually do, and get started with your very next workout!
Four weeks… and bam!
My friend, you're off on the bodybuilding ride of your life!
People are using this "Big Beyond Belief" manual right now to tear up gyms all over the world. (Over fifty thousand converts to date, and still counting!)
Here's just a few of the astonishing secrets you're about to learn:
Why

99% of all bodybuilders

totally miss the boat

when it comes to under­standing the

8 simple "X-factors"

of plateau-free bodybuilding… and how you can

easily

manipulate these 8 secrets to get

massive growth without limit

,

as fast as humanly possible! (They'll be crying "steroids" because you're growing so fast!)



How to

blast your muscle growth through the roof

by limiting your workouts to 45 minutes!

(The truth is — though most guys never figure it out — your test­osterone levels are blown in

less than an hour of working out

… so everything you after that is not only not putting on muscle, but actually

robbing

you of results you should be getting!)



How to stay inside your personal

"

Maximum Growth Zone

"

during every workout…

so you get results from every single rep you do, every time!

(The kind of results that builds on itself like a

muscular landslide!

)



How to use the amazing "

NMA

" secret of

decoding

any exercise to determine its

MAXIMUM POTENTIAL

for results!

(This will help you finally understand why some exercises work better than others at building solid muscle mass!)



Why the time you

allow yourself to rest between sets

can have tremendous

long-lasting impact on your size!

(

Almost no one knows this,

even though it's been

scientifically proven

in the gym!)



How a

simple

adjustment in your "rep speed" can give you an

explosive edge

on building rock-hard muscle!



How to reach,

in just 4 weeks

, the point of getting

steady, permanent and phenomenal gains

that don't stop!



Why the so-called experts are just

dead-wrong

in their ridiculous theories on "Range of Motion"… and how to use what

really

works

to

pack another 50% of permanent results

into every workout!



Why there are only

2 basic, simple diets

you need to concern yourself with while you build massive size… one of these diet secrets will

shock

you, and the other will make you leap for joy (because of all the goodies you can eat to your heart's content!)



Why the

"3-Week Accommo­da­tion Syndrome"

fools so many guys like you into sticking with routines that don't work beyond 21 days! (Almost

any

half-assed new routine will give you some results during the first month… but once your body accommodates to the stress, that new routine will send you into

under­training

so fast your head will spin…

and your growth will stop!

)

Yet it's so easy to

beat

this trap, once you know the secrets!
And more… so much more, it would take me 20 pages just to outline it all here.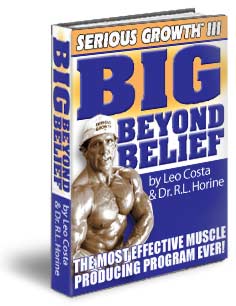 But don't be scared by all the "inside" stuff — the fact is, "Big Beyond Belief" will quickly take all the mystery out of putting on size for you forever!
How? Because:
1) It's simple — everything is explained in a way that even a 10-year-old could understand! (If you're a beginner, this the most intelligent way to get big fast… if you're already a committed bodybuilder, this is exactly what you've been searching for to get the continuous, uninterrupted, massive growth you've always wanted!)
2) You get your own proof (through actual results) almost instantly!
3) And, finally, I'm prepared to offer you…
My Personal
100% Guarantee Of Success!
How can I do that?
Easy — you see, you can have your own download of "Big Beyond Belief" all to yourself for 3 entire months (90 days)… and if by that time you aren't consistently and easily putting on slabs of muscle that wreck your wardrobe… then I insist you simply email the manual back. And I'll refund every cent of your purchase price! Just shoot an email to support@BigBeyondBelief.com saying "Thanks for letting me try "Big Beyond Belief", but I want a refund". Include your PayPal order number (and be sure to email me from the same email address you used to order)… and you will be credited, through PayPal, with a prompt refund.
We'll still be friends, and no hard feelings.
But I seriously doubt you'll be sending the manual back. Almost everyone I know who has come on board has seen exactly the kind of unlimited, shirt-busting growth I've just described to you… week after week, year after year.
After 15 years of serious bodybuilding, I was amazed to see the kind of growth this stunning new training method gave me, in such a short time!
Aren't you ready for that kind of astonishing growth?
Why Am I Finally Revealing
All These Powerful Secrets To You?
The answer is simple: I can no longer sit by and watch while hard-working bodybuilders like you keep getting handed garbage (and even lied to) by all those phony "experts" out there!
I see stupid programs like the "high intensity/low volume" nonsense spread around like it was gospel… yet it just doesn't put muscle on you for more than a brief time (and then you hit that brick wall of stagnation)! And any "expert" who knows spit from shinola should know that!
In my opinion, most of the "experts" today are wimps — you heard me — who spend more time with their drug suppliers than on training.
You want to take drugs, slam some iron around and get puffy with bogus musculature for a few months? Fine.
Then my program ain't for you.
Don't even contact me…
Because I Don't Want
Your Business!
I only want bodybuilders who possess a true passion for training to come on board with me.
Guys with heart… and with enough brains to see the truth when it's laid down in front of them. All those steroid-drenched jerks (who call themselves "experts") shrink into puny, high-fat slobs soon after they stop their drug-intake (which they must do to continue living).
You don't want that… no one with any sense wants that.
I'm going to prove to you (beyond a shadow of doubt) that working out… and that knowing how to train intelligently (and simply)… is still the only way to attain the sort of permanent, naturally-massive physique that screams, loud and clear…
This Is A Real Bodybuilder
You're Dealing With!
You'll finally be the kind of naturally-huge bodybuilder that demands respect and atten­tion everywhere you go.
That's the way it should be.
And that's the way it will be for you… if you'll just let me prove it to you!
So here's what you need to do now: Simply click on the blue copy below that says, "Yes, Leo -- I want to check this out right now!"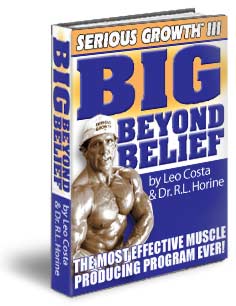 The cost for your private, personal download of this amazing manual… is just $19.95. That's less than what most guys waste on bad supplements in a week!
That's all there is to it. By getting your "Big Beyond Belief" manual, you are arming yourself with the know-how and secrets of attaining real, rock-solid, sustained growth for the rest of your days.
You'll be on a different level than everyone else you know… they'll be coming to you for advice (and staying out of your way in the gym)!
Why are you bodybuilding?
Isn't it to get big, as quickly as possible?
Then trust me — I can give you the simple guide, right now, that will take you to another world of strength and size and muscularity.
Come with me. Do it today — right now, in fact. Click on the blue link "Yes, Leo -- I want to check this out right now!".
Don't risk leaving this site, and forgetting about how EASY your dream of massive strength and size is just days away.
There's no risk. And yet you stand to gain so much.
Let's get busy.

Leo Costa, Jr.
P.S. One more thing — if you order right now, while you're thinking about it -- I will add an amazing FREE training manual I created especially for members of the U.S. Navy SEALS (who came to me privately).
This "unofficial" training is called "Explosive Fire Power", and is designed to provide incredibly FAST strength and power gains… particularly those kinds of gains desired by Special Forces soldiers getting ready for dangerous combat.
This simple-yet-serious training plan will blow your mind. It lays out for you -- in specific detail -- the exact 5-phase workout I designed for the SEALS who asked me for help.
It's called "performance specific training", because it's focused so intensely on increasing the kind of muscle that fighters want and need. What you will discover here is true "explosive strength and power"… in the shortest time humanly possible.
Best of all… this special report is yours free, as my gift to you just for giving Big Beyond Belief a "look-see". I want you to KEEP this free report, too, even if you decide later to get a refund for Big Beyond Belief.
There is a very real risk here that government officials will get pissed off that I'm offering you this free training, however… so you must HURRY. If you act right now, you can download everything and have it in your possession literally within minutes.
This "top secret" special training was absolutely unavailable to anyone, for any price, for many years. This is the first time it's been offered to the general public like this… and, as I said, there's a good chance we may have to remove it from this site.
You're in for a huge treat here, and your life is about to change forever.